You know what they say, breakfast is the most important meal of the day. But we all know dessert is everyone's favorite. Get the best of both worlds with this perfect breakfast pudding recipe! It's a little tart and a little sweet, plus super simple to make. You'll definitely want this for breakfast every day!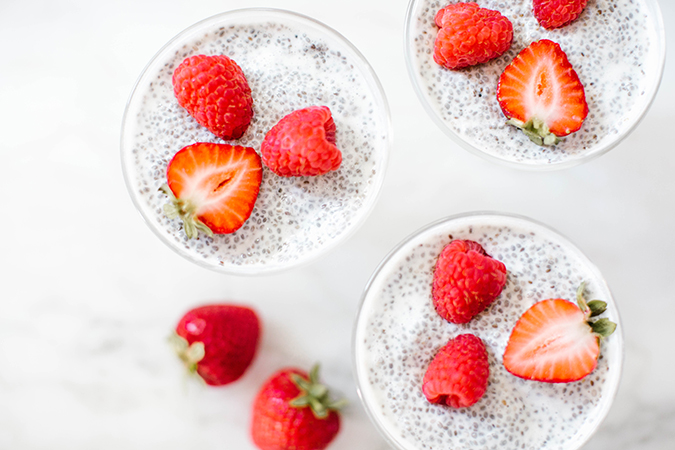 Strawberry-Raspberry Vanilla Chia Seed Pudding
Ingredients:
Makes 4 servings
1 cup vanilla almond milk
2 Tbsp chia seeds
1 Tbsp Greek yogurt
½ cup raspberries + ¼ cup raspberries for topping
½ cup strawberries + ¼ cup strawberries for topping
1 teaspoon vanilla extract
3 Tbsp coconut shreds (optional)
Instructions:
1. In a blender, blend your almond milk, Greek yogurt, strawberries, raspberries and vanilla extract.
2. Pour mixture into separate bowls or jars (we like to use mason jars that have screw-on lids), and whisk in the chia seeds and coconut shreds. Let sit in your refrigerator overnight to allow chia seeds to absorb the liquid and create a pudding-like texture.
3. The next morning, remove your jar and top your chia seed pudding with additional strawberries, raspberries, coconut shreds, and any other topping you'd like (maybe even some dark chocolate chips)!
Nutritious and delicious! You can't go wrong with this breakfast-dessert blend. Try out this recipe and
devour the details
of the best of both worlds every morning!