We couldn't let you go into 4th of July weekend without giving you an update on the
Boston Pops
performance! The fireworks spectacular and concert on the Esplanade is Beantown's most famous patriotic celebration. This year, Keith Lockhart and the Boston Pops will be joined by singers Melissa Etheridge, Andy Grammer, and
Hamilton
star Leslie Odom Jr., who promised that fans of the hip-hop musical would not be disappointed with the show!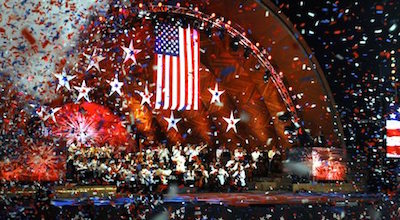 If you want to avoid the largest crowds, you can also see the musical acts sans fireworks at
the Pops
rehearsal show on Monday night from 8PM to 10PM If you're set on getting a spot on the Esplanade for the 4th, get there early. Gates open at 9AM, and the lawn fills up throughout the day. The traditional fighter jet military flyover in coordination with the "Star Spangled Banner," will open the evening's Boston Pops program, and a spectacular 20-minute fireworks show designed by
Grucci Fireworks
, and accompanied by the music of the Boston Pops and other popular music of the past and present, will bring the celebration to an end.
Alix Steel, co-anchor of "Bloomberg Daybreak Americas" on Bloomberg Television and Carol Massar, co-anchor of "Bloomberg Markets" on Bloomberg Radio, will co-host the 2017 Boston Pops Fireworks Spectacular, with additional reporting by Matt Miller, co-anchor "Bloomberg Markets: European Open" on Bloomberg Television. The celebration
schedule of events
is as follows:
MONDAY, JULY 3
Official Rehearsal of the July 4 Show. Includes all guest artists. No fireworks.
GATES OPEN AT APPROXIMATELY 5PM
8:00PM: Concert begins
10:00PM: Concert ends
TUESDAY, JULY 4
Concert & Fireworks
GATES OPEN AT 9AM
8:00PM: Concert begins
10:30PM: Fireworks begin
11:00PM: Boston Pops Fireworks Spectacular ends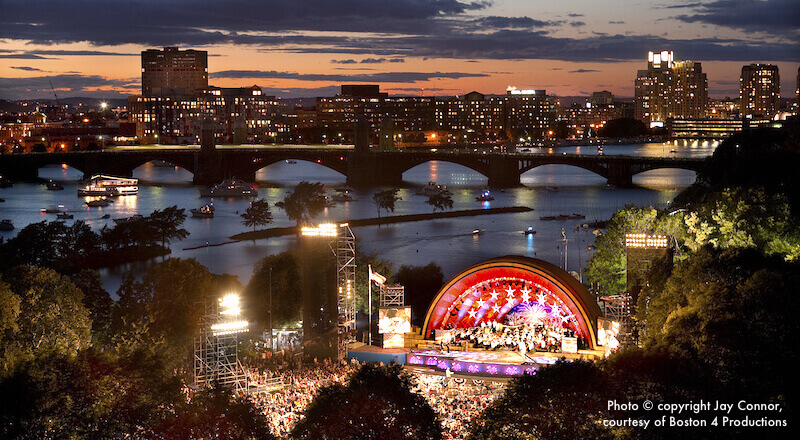 The Boston Pops Fireworks Spectacular is free and open to the public and is held at the DCR Hatch Shell on the Esplanade located at 47 David G. Mugar Way, Boston, MA 02108. For more information on this famous event, visit the
Boston Pops website
. Go 'fourth' (yes, that's a pun), and
devour the details
of Independence Day along the Esplanade with the best celebration around!