When it comes to beautiful and decadent desserts, we've seen our fair share of confections. From cookies to candy, cake to homemade chocolate bars, our sweet tooth has been satisfied more times than we can count. But nothing compares to this phenomenal
Blueberry Cheesecake recipe
we came across on
LaurenConrad.com
. From the graham cracker crust to the chocolate drizzle on top, we won't judge if you decide to lick your plate afterwards!
Ingredients
For the crust:
2 ½ cups graham cracker crumbs
1/3 cup butter
½ teaspoon cinnamon
¼ teaspoon salt
For the filling:
20oz cream cheese, softened
¾ cup plus 2 tablespoons sugar
1 ½ tablespoons all-purpose flour
2 eggs
2 egg yolks
1 teaspoon vanilla
1 cup fresh blueberries
fresh edible flowers
berries to garnish
1 cup dark melting chocolate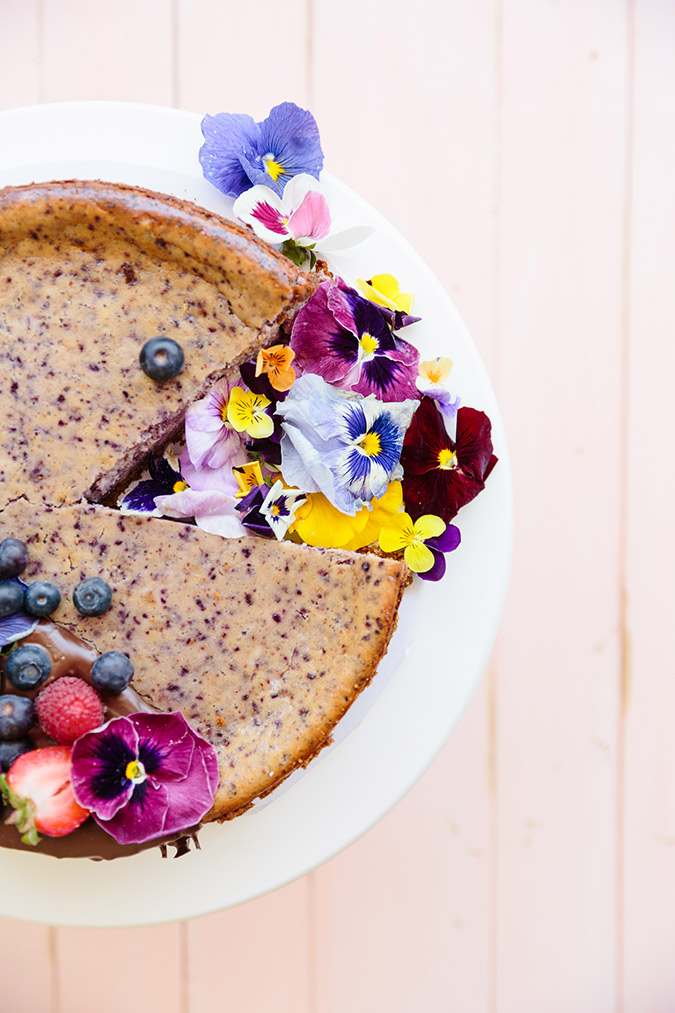 Instructions
1. Preheat oven to 375 degrees.
2. Spray a 9-inch springform pan with cooking spray.
3. Melt the butter in the microwave or on the stove top. Add in the graham cracker crumbs, salt, and cinnamon. Mix until everything is combined.
4. Add the graham mix into the springform pan and press firmly into the bottom and up the sides of the pan.
5. Place the crust into the freezer while you make the filling.
6. Add cream cheese and sugar to a food processor and process until completely mixed together.
7. Add in all of the other ingredients and process until combined.
8. Add the filling into your springform pan on top of the crust.
9. Bake the cheesecake in your preheated oven for about one hour, or until the sides are set and the middle is slightly jiggly.
10. Let the cheesecake cool for at least an hour before removing the sides of the pan.
11. Melt the chocolate in the microwave in 45 second increments, stirring in between each time.
12. Pour onto the side of the cheesecake and top with fresh berries and edible flowers. Enjoy!
We can't think of a more beautiful dessert to sit center stage at our next dessert table! Try out this recipe and
devour the details
of another
LaurenConrad.com
perfectly sweet treat.