For those of you who love
Polar Seltzer
, we've got some news for you. Not only has the Worcester-based beverage company produced
limited edition flavors for the summer
, they've also been making their way onto drink menus at local restaurants near you. Yes, you've guessed it! Mixologists and bartenders alike have picked up Polar to create one-of-a-kind spiked seltzer cocktails you'll want to sip all summer long. Our favorite concoctions thus far have come from an Italian-inspired restaurant in Central Square, Cambridge known as
Viale
.
The five
limited edition flavors
for this summer — pineapple grapefruit, raspberry rosé, strawberry sunrise, mango berry, and watermelon margarita — became available at the beginning of May. The latter two are repeats from last summer. Oldies but goodies!
Viale's
Polar Seltzer cocktails ($11 each) will run as a seasonal series. The restaurant plans to showcase each one for two weeks a time, debuting a new drink every other Thursday. Let's check out the cocktails:
Green Hill Collins (Available June 1)
This cocktail is mainly made with strawberry sunrise Polar Seltzer and is a crowd favorite amongst Viale's employees. Its other ingredients are gin, strawberry syrup, and fresh lemon juice, served over crushed ice in a collins glass and garnished with half a strawberry; making the concoction not too sweet and not too tart.
Burncoat Mule
(Available June 15)
The intention behind these drinks was to keep the influence of a particular traditional cocktail in each recipe. Your tastebuds get a little classic, a little local, and a little seasonal experience in every sip. For example, this cocktail is not your average mule; it's made with pineapple grapefruit Polar Seltzer, vodka, ginger syrup, and fresh lime juice, served over crushed ice and garnished with a lime wedge.
Salisbury Spritz
(Available June 29)
This mango berry Polar Seltzer cocktail tastes like summer. It incorporates aperol, blueberry-infused Cocchi Rosa, and Prosecco, and it's served over ice in a wine glass and garnished with an orange twist. We think this would for sure be our favorite!
Hopeville Margarita
(Available July 13)
Made in Cambridge, but reminiscent of somewhere far warmer, this watermelon margarita Polar Seltzer drink includes tequila, mint syrup, muddled cucumber, and fresh lime juice, and is served over ice in a salted double old-fashioned glass. It's 5 o'clock somewhere, right?
Quinsigamond Sangria
(Available July 27)
For this drink, Viale mixes raspberry rosé Polar Seltzer with literal dry rosé wine, plus cognac, apple brandy, and fresh grapefruit and lemon juices, then serves it all over ice in a wine glass and garnishes it with fresh berries. This might be a close second to the Salisbury Spritz for us. Can't wait to try them all!
And if you're wondering about the food that will be accompanying these drinks,
Viale
has that covered! Their
rotating menu
showcases seasonal pasta dishes, appetizers, and entrees; simple grilled pizzas, and meats perfectly charred on a wood-fired grill. All major ingredients are locally sourced, meaning the shellfish, meat, and produce are procured by the chef from some of the finest farmers and fishermen of New England.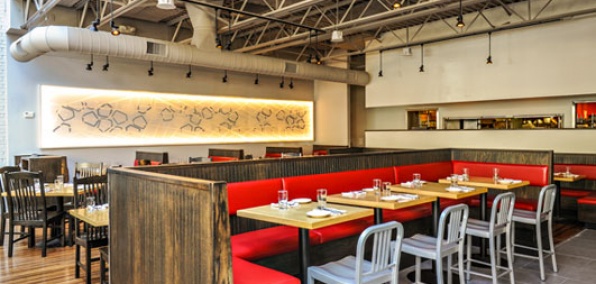 Get ready to sip into summer with
Polar Seltzer
and
Viale's
one-of-a-kind cocktails and
devour the details
of two thirst-quenching months of adult beverages!