So last night I totally recalled that it was Monday and I forgot to blog about the new themed post I wanted to create--Monday Mashups. Yes I may be a space case (especially on Mondays). But luckily I remembered it for today, so without further adieu, here is your belated Monday Mashup--Jumpsuits and Jams (inspired by T. Swift's 4th of July party).
Required attire? Jumpsuits, duh. They are all the rage and are practically like pajamas, so why wouldn't you want to rock these things at party? We approve of any of the following:
Animal Jumpsuits
Jumpsuits that speak nothing but the truth
Or even this knit jumpsuit will work.. the choices are really endless!
You can even get inspiration from some of our favorite celebs like Miley and Ariana!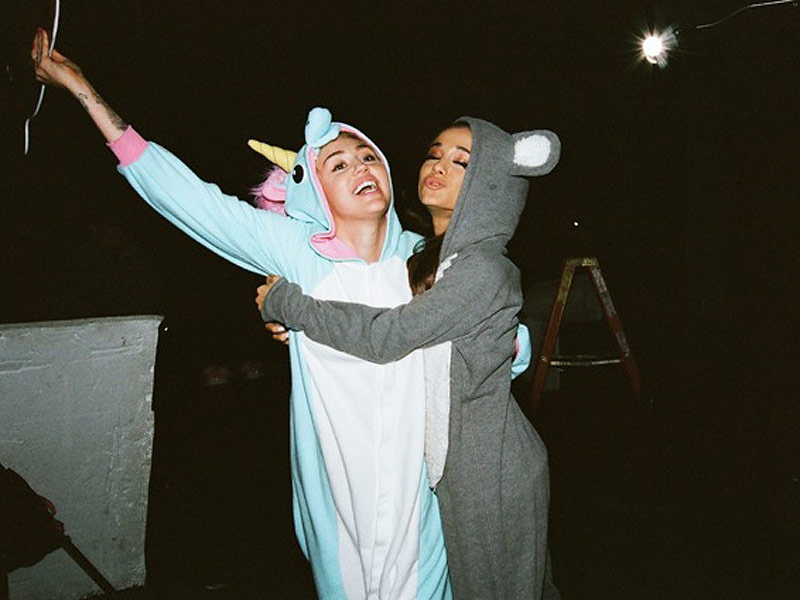 Okay so now onto the 'jams' portion of the party. I think there are two routes you can go with this. One would be to have everyone you invite bring three of their favorite songs, or you can even request this in advance so you have a playlist and lyrics ready to go. Then during the party, host a karaoke roulette. Throw iTunes on shuffle and invite your guests up to sing along! Whatever song comes on the shuffle is what they have to perform. What's funnier than people belting out some one hit wonders while wearing jumpsuits! Another idea would be to just hire a DJ to provide the tunes and make sure everyone hits the dance-floor and boogies the night away.
Here's the best part, serve music inspired cocktails! These are three we love and think would be a perfect pairing with our jumpsuits and jams party.
"The Fancy", an ode to Iggy
Ingredients
½ oz. lemon
½ oz. Demerara simple syrup
½ oz. fresh pear juice
1 oz. Pierre Ferrand 1840
Moët & Chandon
Edible gold flakes
Directions
1. Rim coupe glass with edible gold flakes.
2. Shake all ingredients, pour into coupe glass.
3. Top with Moët & Chandon.
"Drunk in Love" an ode to Yonce
Ingredients
1 oz. Ron Zacapa 23
¾ oz. Diplomatico
¼ oz. Grand Marnier
1 ¼ oz. pineapple juice
1 oz. orange juice
.12 oz. grenadine
½ oz. simple syrup
1 dash of bitters
Directions
1. Combine all ingredients and shake. Or swerve.
"Wrecking Ball", an ode to Miss Miley
Ingredients
For Orgeat Syrup:
¾ cup almond milk
⅓ cup sugar
8 drops almond extract
4 drops orange blossom water
For Cocktail:
1 ½ oz. Mezcal
1 oz. cantaloupe juice (if you do not have a juicer, blend several chunks of cantaloupe in a blender)
¾ oz. of orgeat syrup (see accompanying recipe or purchase pre-made orgeat syrup)
½ oz. fresh lime juice
3 dashes of bitters (the Press Lounge prefers Bad Dog Fire & Damnation bitters)
dash of cayenne of Aleppo pepper flakes
Directions
For Orgeat Syrup:
1. Mix all ingredients.
For Cocktail:
1. Shake all ingredients in shaker with ice, then strain into cold martini or coupe glass.
2. Sprinkle top with cayenne or Aleppo pepper flakes for extra kick.
3. Garnish with speared cantaloupe melon ball.
Other things we would suggest for this party? Definitely create or rent a photobooth. It'll be so worth it to capture these awesome jumpsuits on film. Snacks are a must. Think concert or festival fun foods. Maybe warm pretzels, snowcones, churros, s'mores and cotton candy! Give your guests tons of sugar to keep them singing all night haha! Honestly, I really actually want to do this party myself. I hope this has inspired you to
devour the details
and host your very own Jumpsuits and Jams party!