We're back! And yes, we had a magical time at Disney. Everything was just as we remembered it. We embraced our inner princess and even ate like royalty with our meal plan. So today, we figured we'd give you a recap on our delicious dinners and where to consider going when visiting Disney!
Sanaa at Animal Kingdom's Kidani Village
At Sanaa you will experience the art of African cooking with Indian flavors, as exotic animals roam the Sunset Savanna before you. Here's a taste of what we ordered:
Indian-style Bread Service
Choice of Five Breads - Traditional Naan, Garlic-Ginger Naan, Spiced Naan, Onion Kucha, or Paneer Paratha
Choice of Accompaniments - Roasted Red Pepper Hummus, Mango Chutney, Tomato-Date Jam, Tamarind Chutney, Coriander Chuntey, Garlic Pickle, Red Chile Sambal, or Spicy Jalapeño-Lime Pickle
Potjie Inspired
Butter Chicken, Braised Beef, and Chickpea Wat served with scented Basmati Rice
Grilled New York Strip
Roasted Root Mash, Spice Route Vegetables, and Amarula Steak Sauce
This was one of our favorite meals. Very satisfying after a long day! We highly recommend Sanaa.
Tokyo Dining at Epcot
At Tokyo Dining you can enjoy authentic Japanese cuisine and views of World Showcase Lagoon at this sleek, contemporary restaurant. We even got to see the fireworks show from our table! Here's some of what we ordered:
Tropical Roll
Salmon and Avocado Roll topped with Fried Plantain and Mango-Sweet Chili Coulis
Filet Mignon
Grilled Beef Tenderloin with Sweet-Fruity Plum Wine Reduction
Bento Box
Chicken teriyaki, veggie and shrimp tempura, hibachi steak, poke and sushi
We are sushi lovers and this dinner really hit the spot. Everything was extremely fresh and the service was great.
The Boathouse at Disney Springs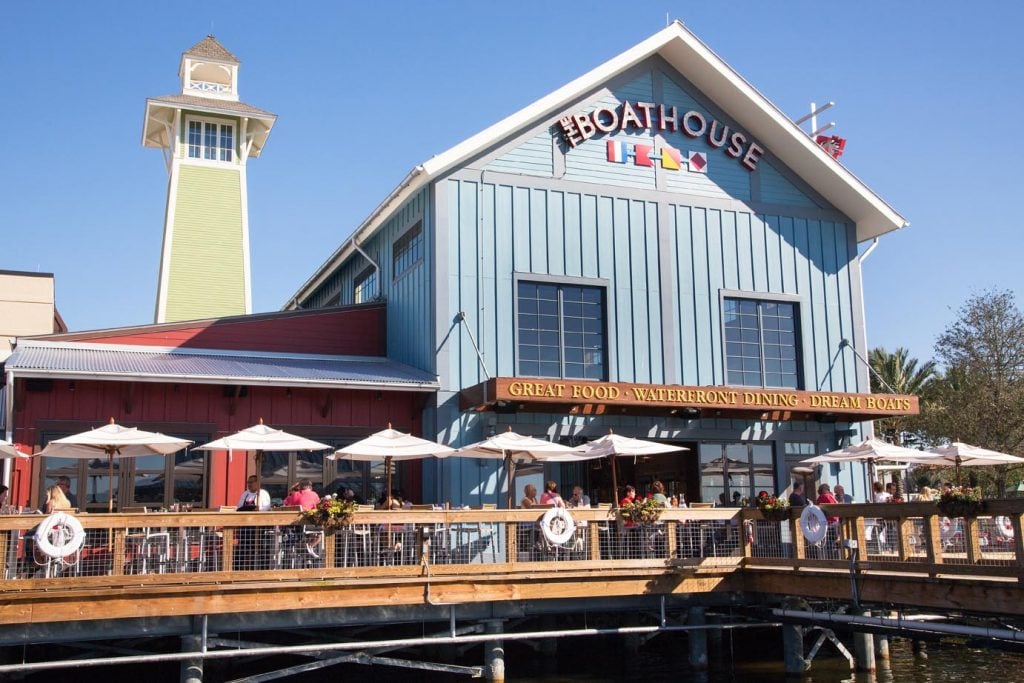 Set sail for upscale waterfront dining at the Boathouse—complete with retro dream boats, from vintage American Amphicars to romantic Italian Water Taxis. We sat out on the deck, enjoyed live music, and had the nicest server of all our dining experiences here. This is what we ordered:
Oysters on the Half Shell
Gibsons Bombay Cocktail Sauce, Cucumber Mignonette
Coriander Seared Ahi Tuna
Blistered Shishito Peppers, Soy Lime Vinaigrette, Wasabi Mayo, Sriracha
Filet Mignon Oscar Style
(8 ounce)
Jumbo Lump Crab, Asparagus, Béarnaise
Double Chocolate Bundt Cake
Vanilla Ice Cream, Raspberry Coulis, Valrhona Fudge Sauce
Just look at that dessert! Needless to stay, we were stuffed after this meal.
Before you head off on your Disney vacation, do your research! Consider getting a meal plan and check out the best way to utilize it. Don't go hungry,
devour the details
of our recaps and make your reservation at these delicious recommendations!