Once you're engaged and wearing that ring around, you want to make sure your nails are in perfect shape for showing it off! Have your polish compliment your ring to make it extra noticeable. Your hands will standout in your engagement photos with these tips and tricks from
The Knot
for the best manicure to make your ring sparkle and shine even more!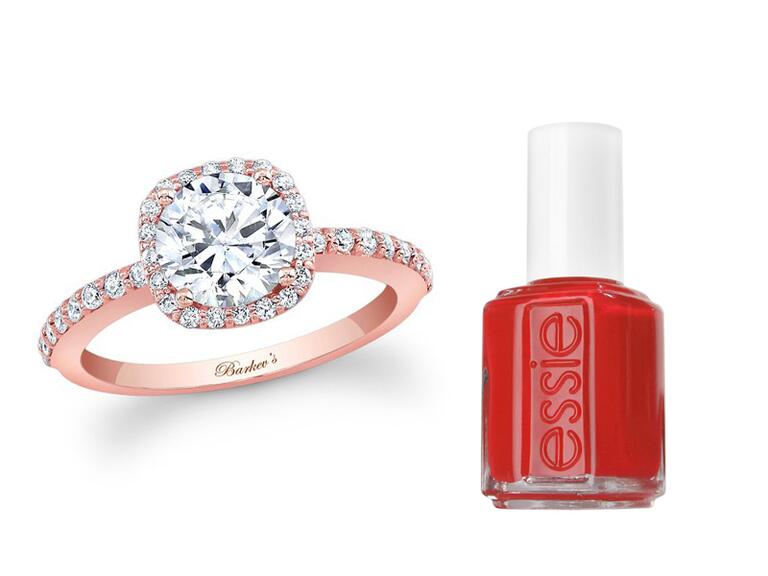 This apple red polish will highlight the pink accents in your rose gold ring for a look any romantic would envy. Red polish, $9, Fifth Avenue,
Essie.com
.
Engagement ring by Barkev's
Your diamonds won't be the only bling reflecting the light, your nails will too when your polish has little flecks of silver shining in it. Shimmer polish, $27, Dior Vernis,
macys.com
.
Engagement ring by Christopher Designs
Pair an elegant, timeless yellow gold engagement ring, with an even more classic sheer pink manicure. Pink polish, $21, Estee Lauder in Ballerina,
lordandtaylor.com
.
Engagement ring by Demarco
Let your solitaire diamond be the center of attention and pair your ring finger with a barely-there nude hue. Nude polish, $7, Sally Hansen in Sheer Ecstasy,
walmart.com
.
Engagement ring by Diamond Ideals
The double band on this outstanding semi-mount diamond ring is already going to turn heads, so go ahead and give them another reason to stare with a light blue mani! Powder blue polish, $11, Formula X in Pastel Sky,
Sephora.com
.
Engagement ring by Elma Gil
Any other color wouldn't stand up to this diamond's shine! Let it sparkle all on its own by keeping your nails understated with a subtle peachy-pink polish. Opaque polish, $7, OPI in Passion,
drugstore.com
.
Engagement ring by Henri Daussi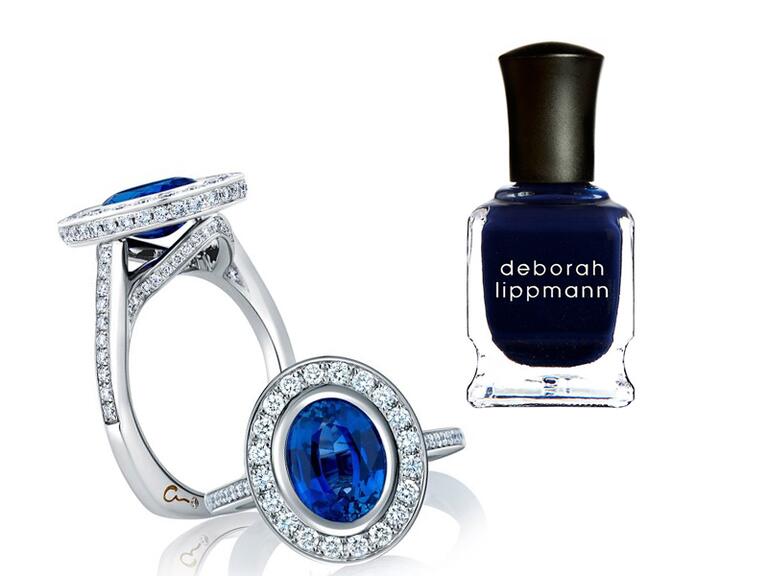 Enhance the deep hues of your beautiful sapphire stone with equally rich, jewel-toned tips. Navy polish, $18, Deborah Lippmann in Rolling in the Deep,
beauty.com
.
Engagement ring by A. Jaffe
A bright white polish is the perfect look for a modern, posh style ring with an of-the-moment diamond halo. Just heavenly! White polish, $20, Nars Cosmetics in Ecume,
barneys.com
.
Engagement ring by Aspen & Co
Let your ring sing and your polish be the backup! Devour the details of your perfect engagement ring mani with these fabulous ideas from
The Knot
!