Looking for a signature cocktail that your wedding guests will truly enjoy? Check out these six awesome libations that are a perfect mix for your fall celebration!
1. Apple Cider Margarita
What You Need
1 oz Grand Marnier
1 oz gold tequila
5-6 oz sweet apple cider
Orange segments and apple slices
Cinnamon, cane sugar, coarse sugar for glass rimming
Cinnamon sticks for garnish
How To Make It
1. Add a few spoonfuls of cane sugar, coarse sugar and cinnamon to a plate. Run an orange segment around the edge of the glass, then press into the cinnamon sugar mixture to coat the rim.
2. Add a few orange slices in the bottom of the glass, fill with ice, then add the Grand Marnier, tequila and apple cider and stir to mix.
3. Garnish with apple slices and cinnamon sticks.
2. Lavender Whiskey Sour
What You Need
Lavender
2 cups sugar
1/2 cup dried lavender
Freshly squeezed lemon juice
2 ounces whiskey
Fresh lavender sprig, for garnish
How To Make It
1. Bring sugar and 2 cups water to a boil in a saucepan over medium heat and cook, stirring, until sugar has dissolved.
2. Reduce heat to low and add lavender. Cover and let steep 15 minutes.
3. Strain mixture into a large pitcher.
4. To make lavender whiskey sour, mix together 2 ounces whiskey and 1 tablespoon syrup.
5. Serve over ice; garnish with fresh lavender.
3. Pumpkin Pie Martini
What You Need
1.5 oz. pecan liqueur
1.5 ounces vanilla vodka
2 ounces milk
0.5 tablespoon pumpkin puree
Pinch of pumpkin pie spice
1 graham cracker, ground (optional for garnish)
How To Make It
1. If desired rim your martini glass with ground graham cracker.
2. Combine ingredients in a cocktail shaker half filled with ice.
3. Shake until chilled and pour into your chilled martini glass.
4. Caramel Appletini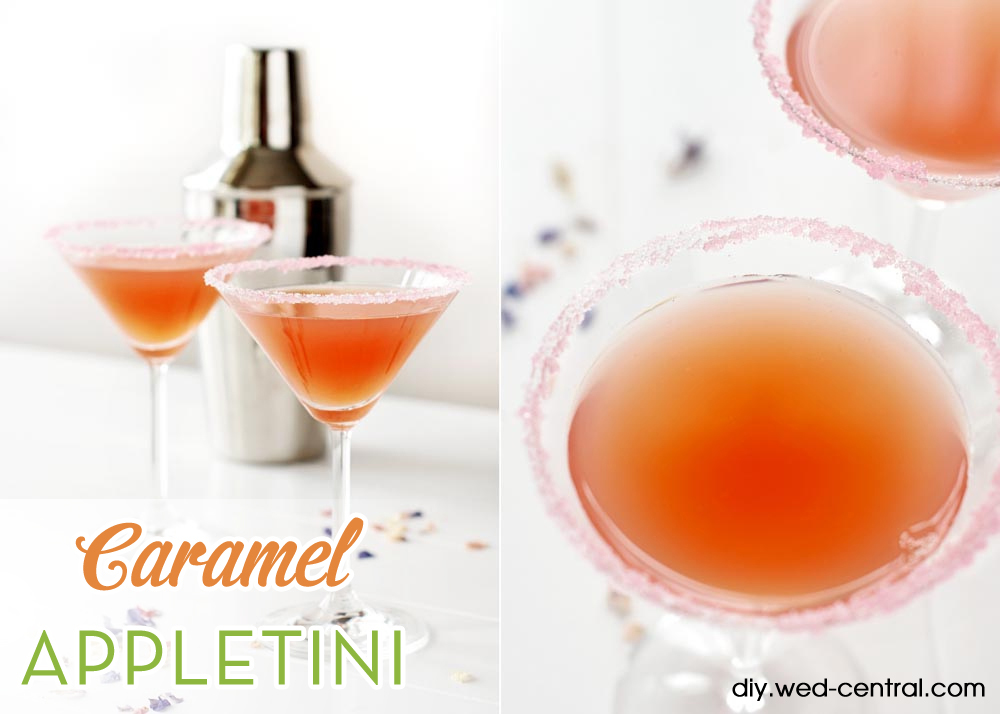 What You Need
1 oz. of Baileys® Irish Cream with a Hint of Caramel Flavor
0.5 oz. Smirnoff® Green Apple Flavored Vodka
1 tsp. Caramel
1 Apple Slice
How To Make It
1. Shake Baileys, vodka and caramel in an ice-filled shaker until chilled.
2. Rim the glass with caramel.
3. Strain into a pre-chilled martini glass and garnish with the apple slice.
5. Pomegranate Champagne
What You Need
1 1/4 cups chilled fresh pomegranate juice (from 3 pomegranates)
1 1/2 ounces chilled Cointreau liqueur
1 chilled bottle (375 milliliters) Champagne
Fresh pomegranate seeds, for garnish
How To Make It
1. In a pitcher, mix juice, liqueur, and Champagne.
2. Pour into flutes, and garnish with frozen pomegranate seeds.
6. Spiced Hot Apple Cider
What You Need
1 Tablespoon Starbucks Cinnamon Dolce Syrup
8 oz Hot apple cider
3 ounces bourbon or dark rum
Sweetened whipped cream
Caramel sauce
How To Make It
1. Pour the Cinnamon Syrup into the bottom of a large mug.
2. Combine bourbon or dark rum with hot cider.
3. Top with whipped cream and drizzle with caramel sauce.
Devour the details
with these signature cocktails and have your guests cheers-ing all night long!