Salem State University's long-running speaker series has scored a major victory by sacking New England Patriots Quarterback Tom Brady for an onstage chat with Emmy-winning sportscaster Jim Gray at the O'Keefe Sports Center on May 7 at 7:30 p.m. The series, presented with support from the
Salem State University Foundation
, is in its 32nd season with many more wins insight.
Founded in 1982 as one of the first high-profile speaker series in the country, the
Salem State Series
has hosted countless world leaders, artists, athletes, and intellectuals on its suburban North Shore campus. Annually, thousands of patrons come to Salem State to hear what Series speakers have to say on a wide variety of subjects. A self-supporting community enrichment program presented through the generous and dedicated support of corporate and individual sponsors alike, the series is one of the many important facets of the university's progressive public education mission.
This year, SSU has found Brady to fit this mold. "Known for his strong work ethic and his belief that it is his team — and not he — that wins championships, Tom Brady is respected across the NFL and is a fan favorite throughout New England. Named 'Sports Illustrated's' Sportsman of the Year in 2005, he credits the team for his win," said a statement from Salem State University, hoping to share this mindset among its students. There is no "I" in "Team" is still a valid life lesson that is no surprise, continuously instilled in young adults, even in their college years.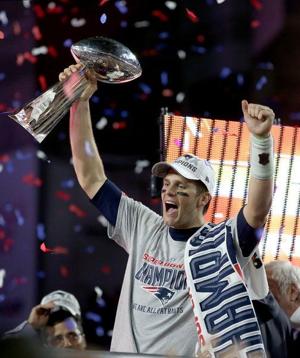 Brady isn't the first of the Pats to take the stage, Patriots Head Coach Bill Belichick spoke in 2008. Other sports speakers include Hall of Fame Baltimore Orioles shortstop Cal Ripken Jr. in 2007 and former Red Sox and Mets manager Bobby Valentine in 2012. Quarterback Doug Flutie and Celtics legend Bill Russell also spoke as part of the series. The foundation works with countless agencies to secure speakers that support educating the public; especially ones that want to impact future leaders such as these Salem State students with their advice and past experiences.
As some of you may recall, the last time Tom Brady was spotted on the North Shore was nearly a year ago. He was wearing UGG boots and walking on West Beach in Beverly Farms with his dog, Lua, filming a commercial. This time around, we're looking forward to Brady baring his UGG boots across the Salem State campus!
Tickets
for this event go on sale Tuesday, March 31st. For more information, visit the
Salem State University Foundation
website.