Valentine's Day is just around the corner and many proposals are being planned! Consider doing it with dinner: a little bubbly, a favorite dish, a sweet treat (and we're not just talking about dessert!). Whether it's a romantic dinner date at your favorite local eatery or a special reservation at the five-star restaurant you've always dreamed about going to, nothing is sweeter than sharing a meal together before the big moment. If you're aiming to pop the question at dinner, here's how to do so!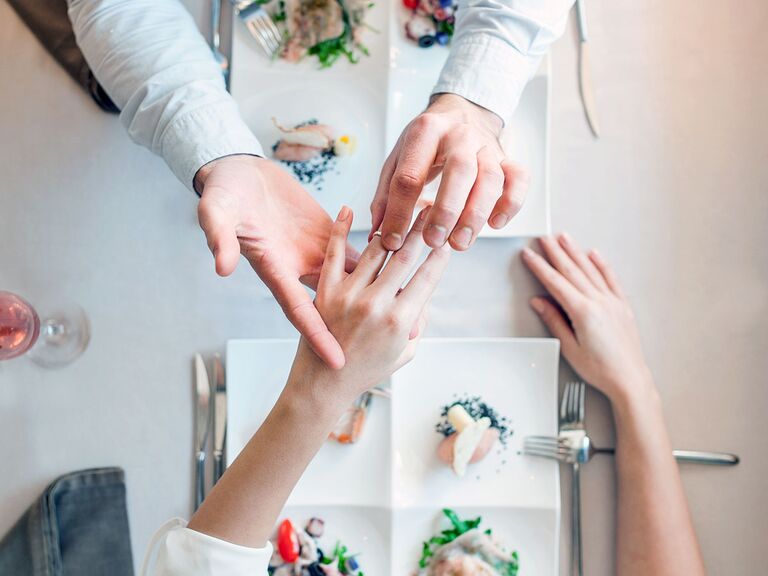 Step 1: Call Ahead
Consult with the restaurant to see what services it provides. Many restaurants have reservations departments that can help with pre-arranging and coordinating extra flourishes, from flowers and champagne to a special dessert. Plus having someone at the restaurant know what your plan is may ease your nerves a bit. They can also catch the special moment on camera!
Step 2: Consider a Weeknight Reservation
Weeknights are generally less busy than weekends. Planning your engagement on a less popular evening will make the atmosphere of the restaurant feel more intimate, allowing you to really share in the special moment together.
Step 3: Wait Until Dessert
Waiting until dessert provides a memorable ending to a perfect dinner date, especially if your partner has a sweet tooth! And if you're coordinating a romantic table setting, make sure it doesn't give too much away. Make sure there is an extra clean napkin around as well in case the happy tears come!
Step 4: Include Family
In some instances, it may be an extra sweet surprise to include your partner's family in the proposal. If the restaurant is spacious enough, have their closest relatives scattered throughout so when the question is popped, the celebration can start! A truly memorable proposal!
Valentine's Day is on a Tuesday this year, so it is a great opportunity to use a weeknight to make arrangements (but make them fast!) and
devour the details
of a perfect restaurant proposal!