Happy Wedding Wednesday! Meet the new and improved photo booth. The biggest trend we foresee for 2017. A memorable, measurable and shareable experience unlike any other.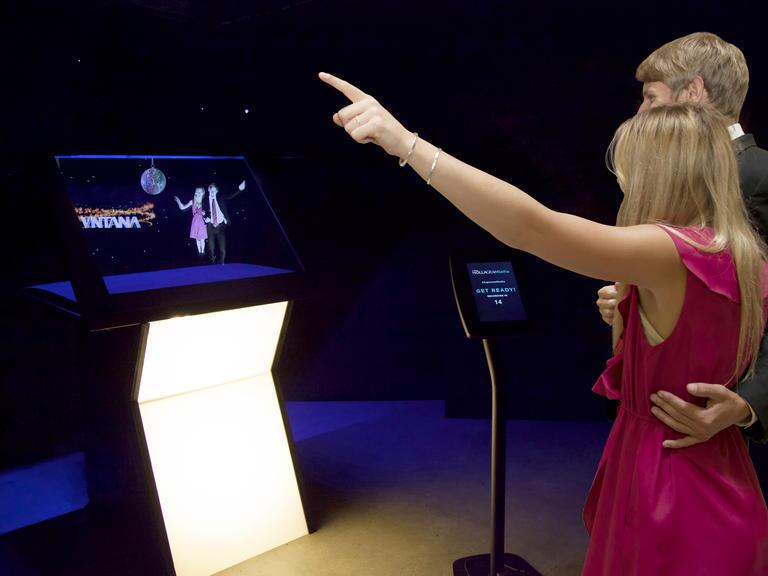 Don't get us wrong—photo booths aren't going anywhere. And we wouldn't want them to. We love how creative people get with their props and ensembles. The possibilities are endless! Photo booths have been a mainstay at weddings for a long time, and they're always a reliably fun activity for you and your guests to create memories. But there's always new ways to upgrade this experience. That's right, we're talking about holograms!
Take a cue from music festivals for the past few years, holograms have been on the rise in making performances even more notable, and are here to stay. Make the concept your own by renting one of holographic technology company
VNTANA's newest products
—wisely dubbed The HOLLAGRAM Selfie, a new augmented-reality, interactive photo booth. Holla! We can already picture how "off the chain" these will be.
Guests can create actual holographic doubles they can see live right before their eyes, and interact directly with holographic objects, like a celebrity, product or any other object by moving their hands in front of the display. You can let your imagination run wild with personalization possibilities. Seriously, what will they think of next? We love this trend and can't wait to utilize
VNTANA's HOLLAGRAM
going forward for our own events.
Take your event to the next level and
devour the details
of a not-so-ordinary photo booth with The HOLLAGRAM! You're guests will never forget it!