WE ARE SO EXCITED--we just needed to use capslock for emphasis. But also totally bummed out since we missed our opportunity to attend the
Downeast Cider Harvest Fest
. Tickets are officially sold out! We were really looking forward to giving you more of our money Downeast but I suppose there's always next year? Anyways, hopefully you're joining
Downeast Cider
for their Harvest Fest Friday, October 23rd from 5-10pm and Saturday, October 24th from 3-8pm to celebrate the apples that are harvested to make the best hard cider around!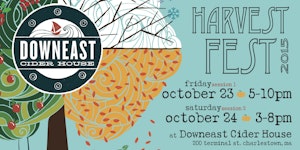 Located at 200 Terminal St in Charlestown, you can pretty much guarantee an experience and as they put it, enjoy Fall by sitting on a haybale under the Tobin! Just to share what we're missing out on, tickets include:
Food included by Causeway BBQ (gluten free and veggie options included)
Downeast Cider Donuts
One free drink - including any of the ciders on tap and beer from Nightshift (ugh, even Nightshift will be there!)
Live music by Local Boston Funk Rock band Pineapple Jam
Games
Beer Garden
Tickets are priced at $40 each, not bad for all of these awesome offerings. We can't wait to see pictures of the event all over social media as we sit at home and sip on our favorite cranberry blend
Downeast Cider
. So if you're going, make sure to share your stories in the comments section even though we may weep a little while reading them. Big shout out to Downeast as they continue to
devour the details
of the hard cider game and best of luck with this event!