As if coming up with a wedding hashtag wasn't hard enough, it's expected now-a-days to be displayed creatively for guests to view and use. It's funny how much thought actually goes into these details but that's what we're here for! While hashtags can appear early on to alert guests of their existence like on your save-the-dates for instance, they can quickly be forgotten by your wedding day. Here are some creative ways to display your hashtag so that it's known, used, and fulfills the plan to get your guests' photos in one place across social media platforms.
Transportation
Whether you're using the bus for actual transportation or for a vintage backdrop, your guests will love this old-school ride announcing your hashtag.
Drink Cards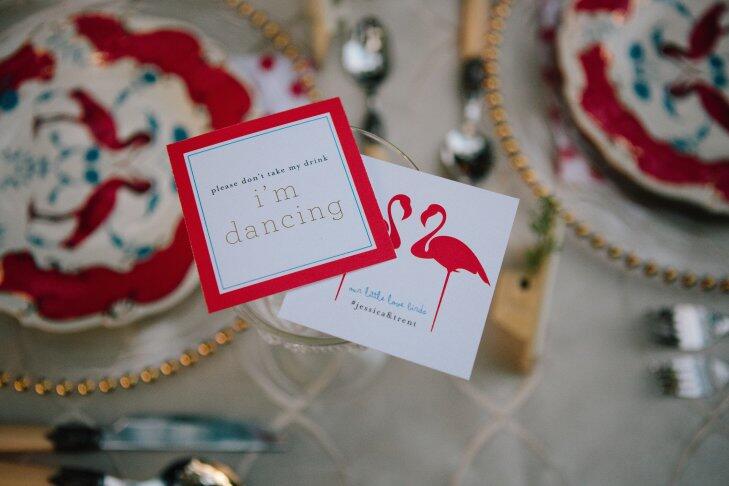 Your guests will love these drink-saver cards when they're out on the dance floor, especially for an outdoor wedding so no bugs get in any cocktails! They'll also serve as a quick reminder for when they're tagging photos and resting their feet.
Photo Booth Props
Make your guests remember by including the hashtag in the photo booth photos!
Photo Backdrop
It won't be easy to miss any social media platforms or forget your wedding hashtag when it's part of all the photos.
Welcome Bags
Remind guests right when they arrive that you'll be using a hashtag at your wedding. That way, you'll likely see photos from all of your events and relive every moment, from nervousness to happiness!
Menu
Where there's food, attention will be paid—so a menu is the perfect spot (especially near the list of desserts)!
Table Cards
Create simple table cards that remind guests to post using the hashtag and place them among centerpiece clusters. A subtle but effective way to display it!
Wall Décor
The complete opposite of subtle, display your hashtag along with your new monogram on a focal point of the reception that work with the rest of your décor.
Suit Jackets
Not only will the stitching serve as a thoughtful memento for years to come, it will also be a fun party trick for the groom and groomsmen when guests ask about the hashtag. We love this one!
If you ever need help coming up with a wedding hashtag, let us know! We love taking your wedding details and turning them into one memorable hashtag. But, the display portion is all up to you. Get inspired and
devour the details
of the perfect prominent placement for a wedding hashtag!