Some of you may have read about this story or have seen it on the news. It is one we knew we had to share. You may recall the breaking news of Secret Service agent Garrett FitzGerald who was seriously injured last month in New Hampshire when an unlicensed driver coming from the opposite direction tried to pass a car and smashed into his head-on during a security detail for presidential hopeful Hillary Clinton. The other driver was killed and Garrett sustained a severe spinal cord injury causing paralysis.
At the time of the crash, Garrett and his fiancé Joan Lyall, who've been dating for nine years, were in the midst of planning their March wedding. Given his intense therapy schedule, they decided to move the date up and were married on Saturday at Massachusetts General Hospital. This beautiful, emotional and loving ceremony included close friends and family and was even streamed live for those who could not be in attendance.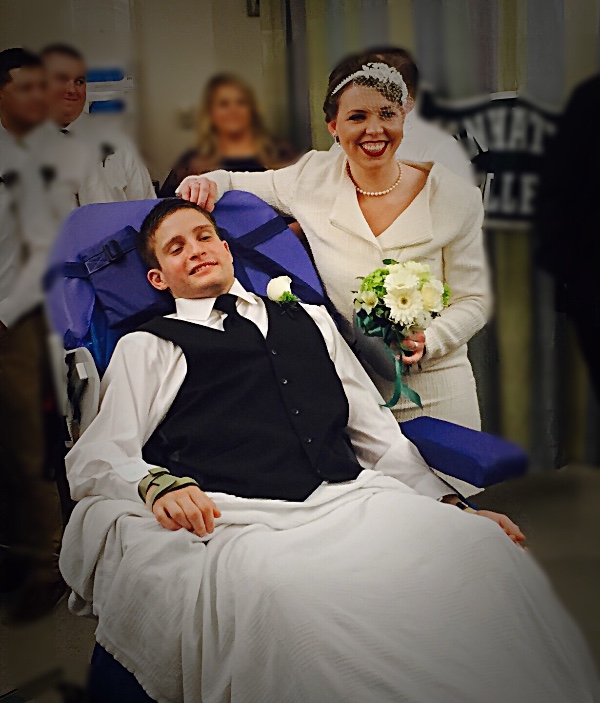 A friend close to the couple noted that there was not a dry eye in Garrett's ICU room. Since the accident, Garrett has regained a little movement in one arm. This is such a heartwarming story. The strength of this couple is truly admirable and we are over-the-moon that they were able to tie the knot. Not to mention, Joan looked absolutely stunning and really pulled off that fabulous bird-cage headband.
Congrats to these newlyweds! Our heart is with Mr. and Mrs. FitzGerald through this recovery process. You are an inspirational couple and we are so happy you were able to
devour the details
of your special day surrounded by people who love you! Sending our thoughts and prayers. Also, please visit Garrett's
GoFundMe
page for updates on his progress and consider donating. #GarrettStrong