We've got some glorious news for all the
Bachelorette
fans out there. If you recall on Monday night's episode, this season's bachelorette star, JoJo Fletcher, participated in a hot yoga class with potential match Chase McNary, and things got steamy! They finished off the date with a romantic dinner and drinks at a private venue. It's undeniable that we all love watching shows like this and somewhat live vicariously through the story that unfolds. But if you're like me and also love the details that are not necessarily part of the plot then you might've noticed that the location of their intimate dining experience was absolutely stunning. And guess what ladies? You can totally tie the knot there!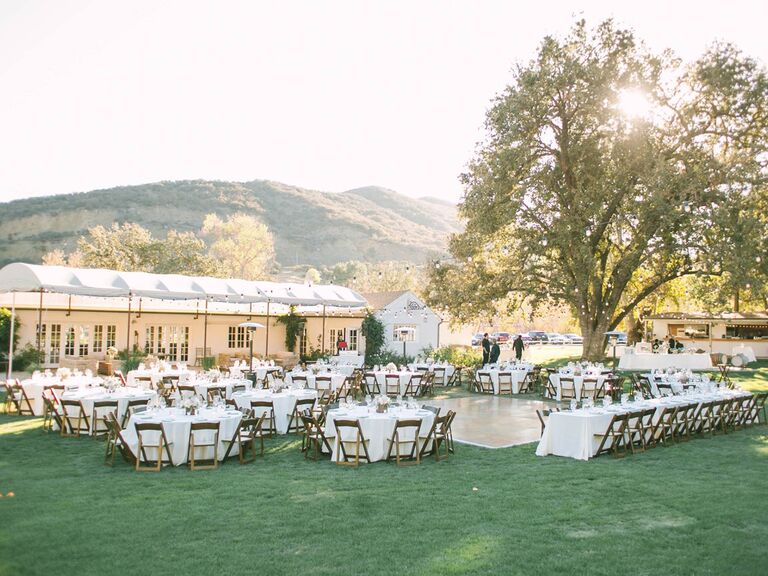 Tucked off a private road in Malibu Valley against the backdrop of the Santa Monica Mountains lies the sprawling
Triunfo Creek Vineyards
, a quaint but lush 55-acre estate. The vineyards were purchased as a family property in 1999 with the intent to develop horseback riding stables. However, as the potential for the land was uncovered, the vision for the property expanded. In 1999, Triunfo's first vintage grapes were planted and then harvested in 2003. The owners realized it would make a one-of-a-kind location within Malibu Valley, and a part of the Malibu wine trails, conveniently within reach of LA, for an array of events including weddings, private or corporate event rental, filming, photography and charitable endeavors to support the local community.
The heart of the property is a charming, French country farmhouse settled upon a rolling emerald landscape and nestled amongst eucalyptus, California Oak and Sycamore trees. A truly elegant and romantic setting for the most unforgettable pictures.
Triunfo
is proud to be first and foremost a family-owned place, a legacy that carries over in the attention given to every one of their clients, the appreciation of even the smallest details, and the dedication to creating the most intimate events. We hear their wine is also incredibly tasty!
Sigh, when JoJo and Chase danced under the stars to Charles Kelley of Lady Antebellum singing "The Only One Who Gets Me" (normal first date night activity, am I right?), we could totally picture a dance floor underneath the two, with family and friends gathered around for the couple's first dance. Just breathtaking! And we all know that JoJo loves her wine, so maybe
Triunfo Creek Vineyards
will end up being a possible location for their grape-inspired wedding. We can see it now! Deep plum gowns, beautiful tall centerpieces filled with shades of greens and blues, and wine for all. Maybe we'll get an invite!
Devour the details
of your wedding venue selection and check out
Triunfo Creek Vineyards
as a beautiful option for your special day. Cheers!