The Maid of Honor is typically charged with the responsibility of putting together a fun-filled, non-stop, over-the-top or low-key party for your bachelorette. A last hoorah before you tie the knot! We've seen just about everything from a spa getaway and beach trip to a cruise and reserved table at a dance club. Vegas, for instance, is the ultimate escape for a final fling before the ring. If this is what your MOH chooses, you're in good hands! Vegas offers so many amenities and is really taking things to new heights for your bachelorette bash.
If you're looking to relax but also enjoy an exhilarating ride 550 feet above the ground, we've got the perfect idea for you! As of yesterday, June 21, which so happened to be International Yoga Day, the
High Roller Ferris Wheel
(the focal point of the LINQ hotel promenade in Las Vegas), opened a
unique yoga experience
that sort of defies gravity. That's right, you can jump in one of the Ferris wheel pods and find your inner balance while taking in the views of the Strip. Amazing!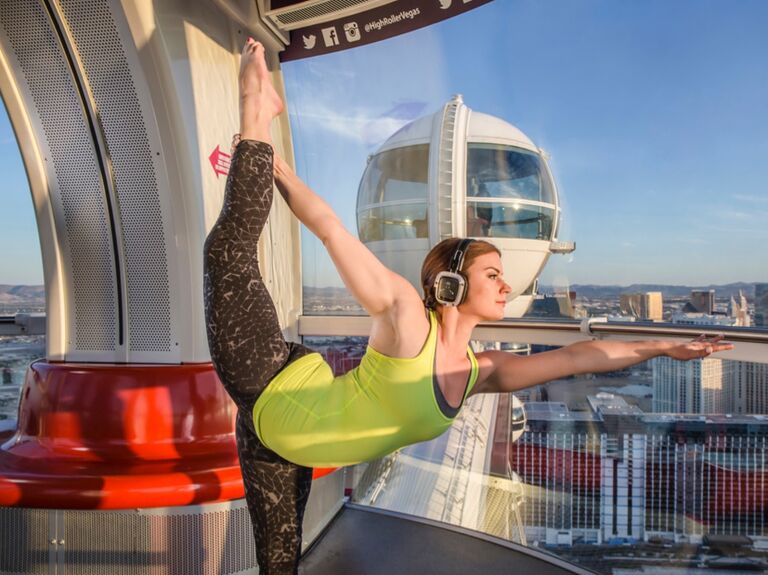 Each enclosed cabin on the wheel can fit up to six yogis, plus an instructor who'll guide you through relaxing poses while the
High Roller
goes around its loop two times. Participants wear headphones while taking the class so they can listen to soothing music while getting instruction with an audio track. Sessions will be held every day of the week for $75 per person, or $300 per couple for private sessions. And get this—for $85 per person, you can chant "om" while watching the sun set over the Las Vegas skyline. We know you'll be saying "nah-I'mma-stay" for that!
So pass this idea along to your Maid of Honor and
devour the details
of one incredible bachelorette party experience! We can't wait to try it ourselves! Namaste!