Happy Wedding Wednesday! This is a question that we see come up a lot as our friends continue to get married. And trust us, it definitely varies across the board. If you are asking someone to be by your side throughout your wedding planning process and special day, be up front with them about the cost so your expectations are the same. Just remember everyone has a budget—so don't go overboard!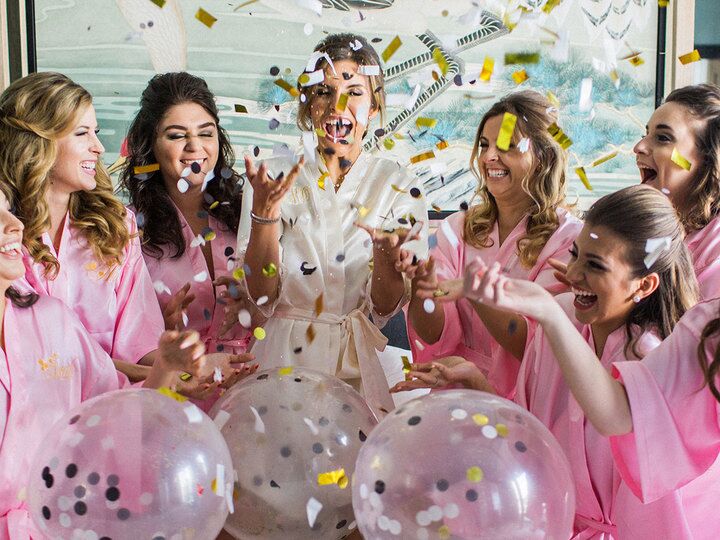 Costs for Bridesmaids:
Hotel and Travel
Traditionally, how your bridesmaids get to the wedding and where they stay is on them. A lot of the time, bridal parties will share a suite the night before the wedding and retreat to their own rooms the night of the wedding. Usually the bride and groom will reserve a hotel room block so the prices are at a discounted rate for their guests including the bridal party.
Wedding Ensemble
Bridesmaid dresses, alterations, shoes and accessories (including jewelry, unless you're gifting it to them) are their responsibility. Surprising them with a nice pair of earrings or a necklace is a sweet touch if you choose to do so!
Bridal Shower
Depending on who's hosting, your maid of honor and bridesmaids are often expected to split the bridal shower bill. But if your family is hosting (or cohosting), a portion of the costs and responsibilities—from décor and activities to food and beverages—will fall on them.
Bridal Shower Gift
A bridal shower gift is by no means required but if the party has a fun theme, like a lingerie swap, it may be less expensive. With something like this, it's possible to participate without purchasing a huge gift off the registry—or another huge gift altogether—which is a nice alternative for your bridesmaids.
Bachelorette Party
Your gal pals are responsible for all décor, activities, food and drink for the final fling before the ring. This can get expensive but it's something everyone looks forward to!
Wedding Present
In money, time and effort, your bridesmaids are paying for a lot, so don't be shocked or offended if they don't get you a wedding gift. If they do plan on gifting you something, they can always go in on one thing with other bridesmaids. You might prefer to receive one nice gift over several less expensive ones anyway.
What You Could Cover:
Bouquets, Corsages and Other Floral Accessories
The bride and her family are expected to pay for the bridesmaid bouquets and other floral accents like corsages.
Wedding Day Transportation
Traditionally, the bride and her family are responsible for coordinating and covering day-of wedding transportation (to and from the hotel, ceremony and reception) for all guests and the wedding party. So treat them to something nice! It's more fun to roll up together and have one last pep talk before you walk down the aisle!
Hair, Nails and Makeup
This one's a little trickier, but if you request that your bridesmaids get their hair, nails and makeup done professionally, and you want them to look the same, then you should pay. If you're impartial, but your bridesmaids insist on using a professional glam squad, offer to split the bill or pay for it as their bridesmaid gift. Plus it's always a good time getting dolled up together!
Accommodations the Night Before the Wedding
If you plan to spend the night in a shared hotel suite with your pals on the eve of your wedding, expect to cover the costs. Your bridesmaids may have already split a room with a plus-one for the duration of their stay, and they shouldn't have to pay for yet another room. What better way to celebrate your last day before becoming a Mrs. then with a slumber party?!
Whether it's coordinating the bridal shower or bustling your dress at the wedding, be honest about what you expect from your crew, up front about all costs associated with their commitment, and willing to compromise wherever you can. If you're gracious and understanding, they will be too. Share your expectations and
devour the details
of your big day with the best bridesmaids by your side!