What a weekend we have ahead of us! The sun will be shining and the rain will hold off long enough to spend sometime out and about in the city. No plans yet? Don't worry--we've got that covered. Have a brew-tiful weekend in Boston at these upcoming events!
Thursday, July 20
Samuel Adams Brisket and Brews
Despite its size, Sam Adams has never forgotten its craft beer roots! That's why later today the company will be hosting a party honoring the American Homebrewers Association (AHA). The AHA is a not-for-profit organization based in Boulder, CO, dedicated to promoting the community of homebrewers and empowering homebrewers to make the best beer in the world. AHA members get in for free, but anyone can attend to talk about the brewing process with Samuel Adams brewers and explore the rarely seen Nano Brewery where the company creates its new beers. Tickets include five beer samples and a full-course brisket meal from Northeast Café. Can't go wrong with substituting your Thursday night dinner plans for a tour and full-course of brisket at Sam Adams brewery!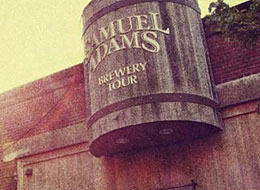 Friday, July 21
City Tap House Celebrates "Belgian National Day"
On July 21, the patio at City Tap will be set to bring guests the best in distinguished yard games. In addition to pouring over a dozen brews from Allagash to honor Belgian brews, the kitchen will dish out some traditional Belgian favorites with City Tap twists such as Ham, Gruyere & Endive Croquettes with fried parsley and Belgian mustard ($12); a Farmer's Board spread with fromage from the Belgian Trappist beer-and-cheese Chimay Abbey, boudin blanc sausage, apple compote, cornichons, bister mustard and rustic bread ($15); and, Moules Frites in a flavorful broth of Belgian ale, leeks, garlic and butter with fries and andalouse sauce ($16). For those who loves to eat breakfast anytime, there are Belgian Waffles with fresh fruit, Nutella and whipped cream ($10). Don't miss this feast! Head to City Tap this Friday and celebrate like a Belgian on their national holiday!
Saturday, July 22
Dorchester Brewing Anniversary Bash
Dorchester Brewing is going all out for its one-year anniversary on Saturday, even securing a one-day permit from the city to double its capacity so no one will be left hanging. Double the space, double the fun. (Thanks for thinking of all of us DBco!) The brewery will hand out free giveaways throughout the day, host a trio of live music performances, and debut a new beer to mark the occasion. On the food side of things, the brewery will have pretzels, a pig roast, food trucks, and birthday cupcakes. You won't want to miss this all day bash!
It's time to step away from your Netflix-binge and head into the city to celebrate summer! Join us at these upcoming events and
devour the details
of a brew-tiful weekend in Boston!