In a few days, I will be traveling to Las Vegas for work and staying for a mini-vacation. We've already got some big things planned like seeing Britney and zip-lining across the strip from the Rio Hotel. So far, everything we are doing costs a good chunk of change, so I figured I'd research some free attractions and share them with you all! Here are five free things to do in Las Vegas you can bet on being fun!
Fremont Street Experience
: Located in Downtown Las Vegas, the Fremont Street Experience offers free nightly shows featuring 12.5 million lights and 550,000 watts of amazing sound. The show is often paired with free concerts and other special events. It's a modern twist on old-school Vegas. The show starts every hour on the hour from 7 p.m. to midnight. On the east end of the street, walk through the outdoor Neon Museum, which hosts some of the old hotels' neon signs.
Fountains of Bellagio
: More than a thousand fountains at the Bellagio dance to music ranging from Pavarotti to Sinatra. Sold as the most ambitious, choreographically complex water feature ever conceived, this free show is sure to amaze you. Each performance is unique in its expression and interpretation and ranges from opera to classical to Broadway tunes. Depending on time of day, the show starts every 15 or 30 minutes in front of the casino.
Flamingo Wildlife Habitat
: Appropriately enough, the Flamingo resort is home to a flock of live Chilean Flamingos. These birds, along with a collection of other feathered friends, hang out in the hotel's very own wildlife habitat, or the closest thing to it on The Las Vegas Strip. There are also swans, ducks, koi and turtles relaxing by the waterfalls and the tropical foliage.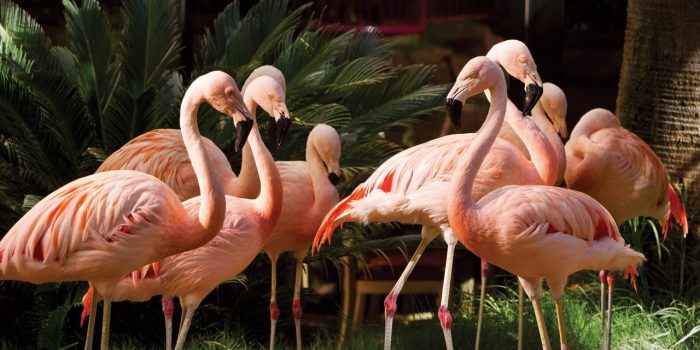 Steetmosphere at The Venetian
: Part of the charm of Grand Canal Shoppes at The Venetian and The Palazzo is the "Streetmosphere" created by an international roster of classically trained singers, actors and musicians. Daily performances in St. Mark's Square add an unexpected element of entertainment to the shopping experience and embellish the center's unique and vibrant atmosphere. The Living Statues amaze guests with their immovable poses, while Artiste del Arte, a troupe of talented musicians, wander the center's cobbled streets and serenade shoppers beneath the evening sky. On any given day, there are approximately 30 small performances that unexpectedly delight and entertain shoppers.
Silverton Aquarium
: The Silverton's huge, 117,000-gallon saltwater aquarium is home to more than 4,000 tropical fish—and several "mermaids." Watch one of the interactive feeding shows at 1:30 p.m. and 4:30 p.m. daily, and don't miss the mermaid swims on Thursdays between 2:15 p.m. and 8:45 p.m.; Fridays and Saturdays between 2:15 p.m. and 9:45 p.m.; and Sundays from 11:30 a.m. to 6:45 p.m.
I can't wait to
devour the details
of these fun and free attractions and I hope you can too! Definitely research things to do free of charge before any trip you take. Free is always fun! Viva Las Vegas!