Welcome back
Boston Bacon and Beer Festival
, we have surely missed you! Presented by Eat Boston on behalf of The Red Sox Foundation, Community Servings, and Lovin' Spoonfuls, the Bacon and Beer Festival is back for their sixth year at Fenway Park to celebrate America's two favorite things: bacon and beer!
On Saturday, June 20th from 2:00pm to 4:30pm "meat" us on the concourse at
Fenway Park
to sample bacon from all over: 51 Lincoln, Audubon, Bambara, Barcelona, Bison County, Blackbird Donuts, Brasserie 28, Central Bistro, Eat at Jumbo's, El Pelon, Ferry Street, Gaslight, JM Curley, Lincoln Tavern & Restaurant, Loco Taqueria, Lulu's, Mei Mei Street Kitchen, MET Back Bay, Night Market, Passim, Puritan & Co, River Bar, Saloon, Savvor, Shojo, Stoddard's Fine Food & Ale, Sweet Cheeks BBQ, Ten Tables, The Blue Ox, The Gallows, The Inn at Hastings Park, The Merchant, Tip Tap Room, Trina's Starlite Lounge, Vee Vee, Vine Brook Tavern, West Bridge, Whole Foods Market- Symphony. And don't forget about the beer: Anchor Steam, Blue Moon, Blue Point Toasted Lager, Cisco, Goose Island, Harpoon, Long Trail, Narragansett, Notch, Peak Organic, Redbridge, Sam Adams, Sierra Nevada, Smuttynose, Wachusett and more to be announced.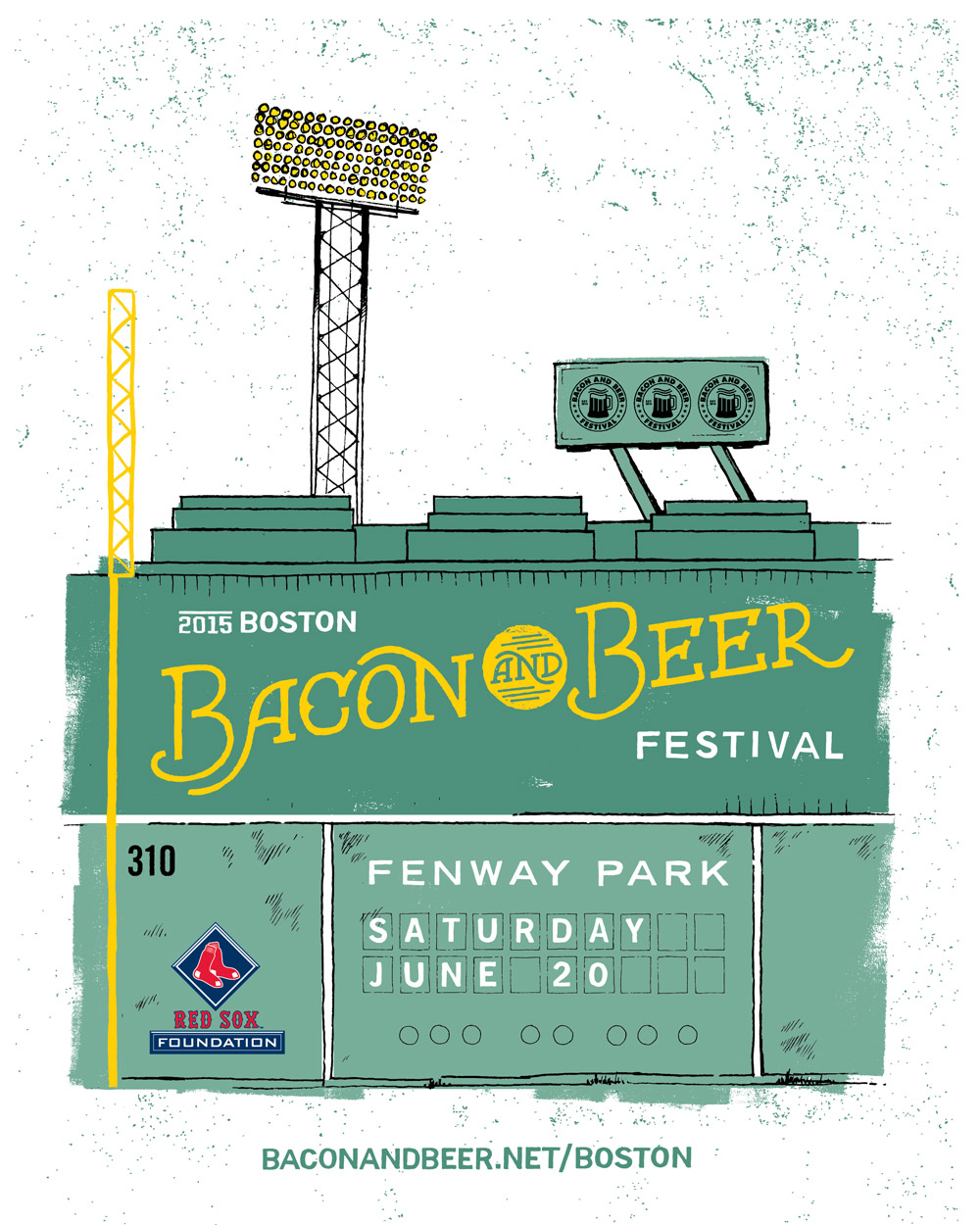 This fundraiser has been wildly successful in the past and is ready to kick butt again in 2015! Tickets will be available for sale
here
tomorrow, Wednesday, May 27th at 10AM. As always, tickets are expected to go extremely quickly. They're selling a few more tickets this year, but they will still be extremely limited. Tonight at 7PM, a limited amount of
early bird baller tickets
will be released. These tickets cost more money, but should be available for more than a minute (because they cost more money, haha). The early bird baller tickets include a Bacon and Beer Festival t-shirt, a
pound
of Tender Belly Bacon, allow you to skip the line, AND you get to call yourself a baller, what could be better than all of that?
This year, the event will be set up a little differently in regards to the beer. Upon entry, each guest will receive 16 tickets redeemable for 1.5 oz samples of beer. Guests will also have the option to purchase certain beers after you use up your tickets. Bacon tastes will, of course, be unlimited until the restaurants run out! Mmmm, we can already taste it now. In the meantime, sign up on the
email list
to be the first to hear about any upcoming details.
We are ready for a stroll down Yawkey Way to
devour the details
of the 2015
Boston Bacon and Beer Festival
, are you?