My boyfriend has been on a total drone kick lately. Every time we're in a Target or Wal-Mart with a large electronics apartment, he is perusing for one of these high-flying contraptions. We don't have a real use for one which is probably why he hasn't dished out the cash for it yet but I feel like it might be a near future purchase especially after he reads this post! You may not consider a drone as a necessity to a wedding but if you want to capture the most spectacular photos and videos of the entire day, this is an incredible way to do so. Get the drone know-how and learn more about aerial photography before you decide on incorporating these machines into your big day!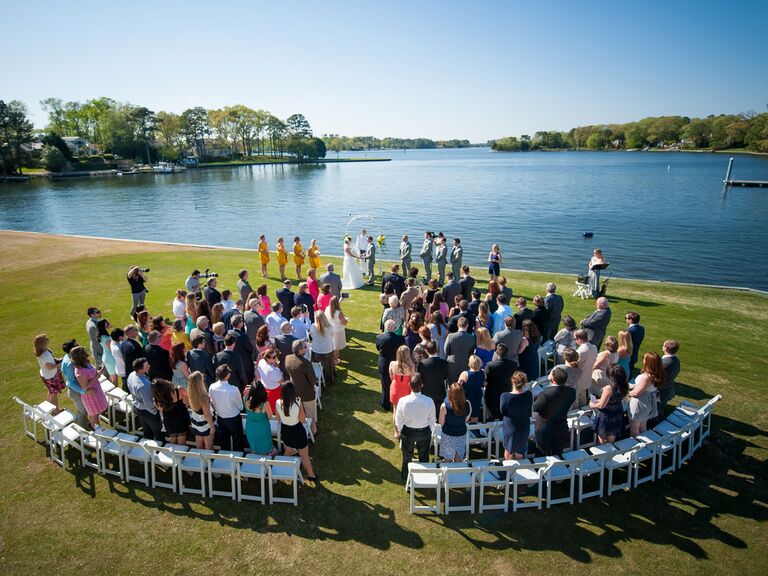 Safety First
Safety is the most important thing to keep in mind if you plan to hire a drone. Drones are essentially mini-helicopters with cameras, so if the drone operator isn't a properly trained professional, you risk having any number of accidents on your hands (none of which you would ever want, but especially not on your wedding day). Make sure you take the time to research each drone company and even ask for references to confirm their previous wedding experiences.
Planning and Professionalism Required
If the drone pilot doesn't have an established safety plan, insurance, extensive knowledge of how to operate the vehicle or close coordination with the venue managers, wedding photographers and the couple, this exciting feature can be turned into a great risk to the wedding party. Make sure your ground photographer collaborates with the drone flyer, then sit down with them and go over their plans. Everyone should be on the same page to ensure safety and excellent photos.
Get Drone Insurance
Every drone operator needs personal property and liability insurance for commercial UAV (unmanned aerial vehicle). That way, if something or someone gets hit (which is extremely rare, but still), the operator is covered and the damaged object will be repaired. Always take the maximum safety precautions when it comes to a risk factor such as this!
The New Way to Capture Memories
Hiring a pro drone pilot to shoot your wedding is a no-brainer. This new trend gives a whole new perspective to wedding day photography. You want to make sure that the photos come out the best they can; drones elevate your normal, once-in-a-lifetime opportunity to a memory that will never ever be forgotten. Worth the risk? We think so!
Take Advantage of Your Venue
Drone shots can capture dynamic, illustrative videos and images that display the scope and scenic context of your event. Are you tying the knot on a mountainside, vast valley or other stunning location? Beachfronts or even backyards, imagine looking through your wedding album on your 20th anniversary and having a sweeping aerial snapshot of your venue. There's nothing else like this!
Impossible Made Possible
Since drones are so versatile, you'll be able to get creative with your wedding shots. One option is to gather your guests on the outdoor space to spell out words or organize them in other fun ways. Drones can capture emotional moments that wouldn't have been possible to get from the ground. For example, a bride and her father hiding on one side of the venue while the groom waits to see her at the altar—all in one shot. Another example of some of the best drone photo opps is a couple's ceremony exit, surrounded by the sprawling landscape/cityscape and friends and family celebrating. The contrast between the intimacy of those moments and the epic grandeur of the location makes these shots so spectacular.
Minding the Elements
Drones are pretty tough, but they're still electronic devices, so that means no flying in heavy rain or crazy winds (over 25 miles per hour). The good news is that cold weather won't deter them. Drones have insulated batteries and generate their own heat so they're fine outside in the cooler temps but your guests might not be!
Outside Is Best
Drone pilots can fly vehicles inside, but it's much more risky, so proceed with caution. We highly recommend keeping this high-flying machine outdoors! If you're having an outdoor wedding and you're not thinking about using a drone, you should. Especially if it's on a piece of family property where it's timeless, beautiful and special. Or if you're doing a wedding on a boat, for example, how else are you going to get a shot unless you have something of this nature involved? Capture that moment and relive the grandeur of your wedding day for years to come!
No Close-Ups
Drones should always augment and never interfere, so definitely stay away from close-ups. Not only is it very unsafe, but it's also obnoxious, intrusive and loud. These clunky things will for sure be in your guests way. If you'd hoped to capture your vows with a drone camera, it's not possible, there's no audio from the drone. What you can do is film the walk and the couple meeting the officiant at the altar, and then land the vehicle. You still get the shot you need without interrupting anything. This will also help your guests hear the ceremony without being distracted by the contraption in the air.
Two companies with experienced drone pilots we recommend checking out are
Atmosphere Aerial
and
Propellerheads
. Atmosphere Aerial packages range from $500 to $3,500. Propellerheads offers services with a day rate, with raw, unedited footage at $2,500 (including a full assembly team: cinematographer, pilot and technician). Both provide their services individually or in collaboration with your hired, ground-based wedding photographer. Quite an amazing feature to incorporate into your wedding day. Get full coverage and devour the details of your entire wedding from way up above with the help of some drones!