We've given you ideas in the past for non-traditional bouquets but nothing ever like this. And honestly, this brilliant idea melts our hearts. We know you'll love
this story
too! At her September 10th wedding in Elizabethtown, Pennsylvania, Sarah Mallouk Crain, who works for the dog rescue organization
Pitties Love Peace
, asked her bridal party to put their bouquets down and hold rescue pups during their portrait session. The outcome: pure love and happiness in each photo!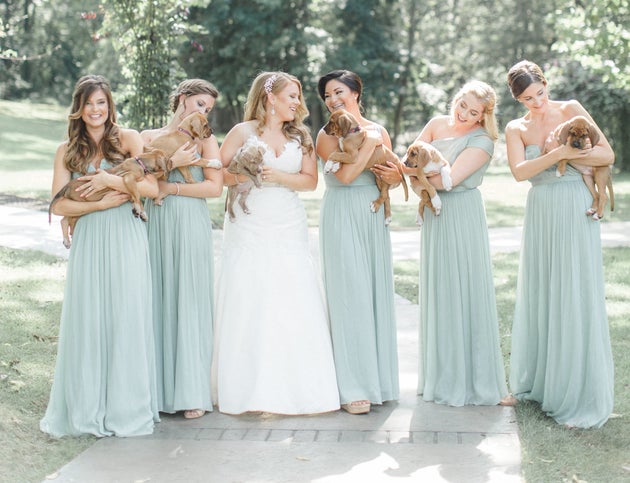 The bride posed with a nine-week-old pit bull puppy, affectionately named Biggie Smalls, who was found on the streets of Brooklyn. The bridesmaids and groomsmen took turns cuddling with five boxer-coonhound sisters named Martha, Abigail, Dolley, Elizabeth, and Louisa after the original First Ladies of the United States. The newlyweds have three dogs of their own ― Mara, Leo and Atlas ― and also act as foster parents to pups who are still waiting to find their forever homes. It's evident that Sarah has a true passion for rescuing pups, and she now gets to share that with her husband Matt as they start their lives together, making life extra sweet (and furry)!
The Crains and entire wedding party looked phenomenal in every photo but we have to admit, the pups were definitely the shining stars in each shot! For the time being, the boxer-coonhound pups are living in separate foster homes. However, they will soon be
ready for adoption
. So if you've got a hearts as big as Sarah and Matt's, consider taking one of these beautiful pups home with you! We know we want to!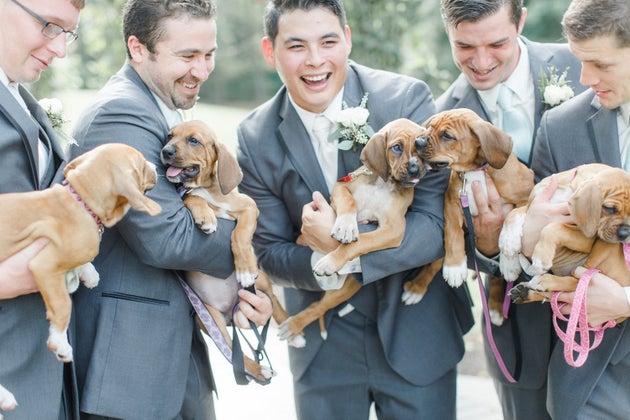 With that, we wish The Crains nothing but endless love and happiness with their fur-family and we hope
their story
inspires others to
devour the details
of their big day in a similar way!