I came across a story today of a news reporter who had no idea the lead she was following was actually her now-fiancé's way of proposing. Maryanne Firth launched an investigation into a series of ambiguous heart signs popping up all over Welland, Ontario. What could they mean? Some believed it was a way to spread love through the city, others questioned whether it was a business or election ploy.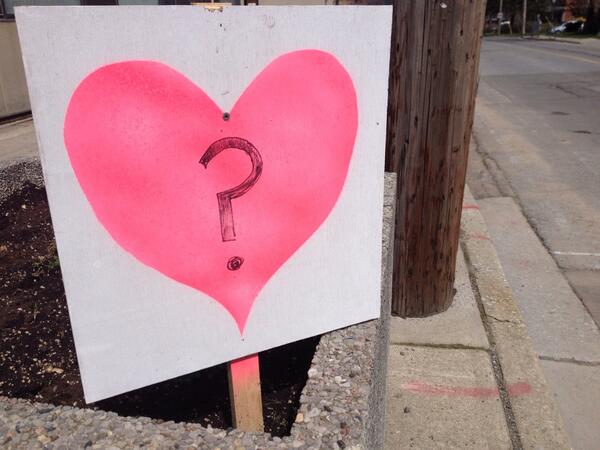 Firth interviewed locals who guessed that the hearts may be part of a public art installation, but she concluded, regardless of their intent, that they seemed to be deliver a positive message. She created a hashtag for them so anyone could tweet new sightings #Wellandhearts.
The signs continued to pop up around town and were later joined by new signs announcing a happening at a local park that Sunday at 3 p.m. Note: these signs had been popping up since early May. When Firth arrived to continue reporting on the mysterious heart signs, there was a man in a suit with a heart-painted box over his head and engagement ring in hand. It turns out it was her boyfriend of eight years and the whole mystery heart signs were his way of proposing.
Ryan St. Denis (Firth's now-fiancé) says he had been working on the proposal for two years unbeknownst to Firth. A wonderful display of true love. Congrats to this beautiful couple!
St. Denis
devoured the details
in his surprise proposal to Firth. Maybe this will inspire all significant others to do the same!