Dine Out Boston
, formerly known as Restaurant Week Boston
®
, is taking place this week! Just in time to celebrate the close of summer, Dine Out Boston is brought to you by the Greater Boston Convention & Visitors Bureau and American Express, providing locals and visitors an opportunity to sample area restaurants at special prices. Participating restaurants design prix fixe menus for lunch and dinner. Each participating restaurant selects one of the three price options; the Chef then prepares a menu to celebrate this unique week, the cuisine and the diners!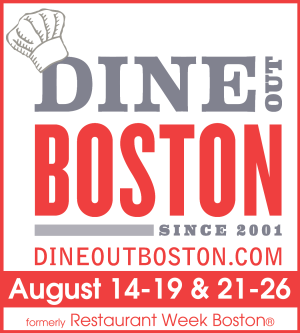 There is no experience quite like this, especially if you love food like us! Diners can choose from old favorites to the latest culinary hot spots, from nationally known chain restaurants to local chef owned bistros, from Asian or Argentinean fare to French, Italian, tapas and sushi, from the award-winning restaurants of Boston and Cambridge to the gourmet gems in the suburbs north, west and south of the city. We are so hungry right now!
As you feast your way through the week,
Dine Out Boston
is also holding a contest where you can win a $100 gift certificate to any of the participating restaurants you end up going to. Yum! All you need is your phone, Instagram, Facebook or Twitter apps and a picture of your delicious Dine Out Boston dining experience!
Snap a Picture
Tag it with #DINEOUTBOSTON and the restaurant name
Share it and let all your friends see how much fun you're having!
​That's it!
Dine Out Boston
will announce a new winner each day, so eat out often and submit multiple entries! There is a limit of one entry per person per restaurant per day and of course limit one prize per entrant. Count us in!
Some restaurants you can dine at include
Antico Forno
in Boston,
Abby Park
in Milton,
A Tavola
in Winchester,
80 Thoreau
in Concord and
224 Boston Street Restaurant
in Dorchester, just to name a few! Visit the
Dine Out Boston website
for a complete listing or search to see if your favorite restaurants are participating. You can't go wrong with dining out and
devouring the details
of this experience all week long in Boston! Hope to see you at one of these delicious restaurants!