Airbnb Inc.,
the company currently known as a single-use home-rental service, will transform into a multipurpose trip planner. An obvious next step for this evolving business! They are pressing ahead with plans to expand into new travel services including restaurant reservations and city tours. The company is testing a standalone mobile app for finding and organizing travel plans, highlighting the importance of the initiatives of the company. And we couldn't be more excited for them!
A test version of the software is called
Airbnb
Trips, according to an Android app listing on the Google Play Store. The app offers access to personal itineraries with information about upcoming
Airbnb
rentals, city guidebooks, dining and happy hour events. Offering local services could help Airbnb differentiate itself from HomeAway, VRBO and other room-booking websites. Airbnb hopes to provide a more personalized touch similar to that of a hotel concierge. We foresee this app being successful for both leisure and business travel; organizing all aspects of a trip in one designated area for complete convenience and ease is all any traveler wants.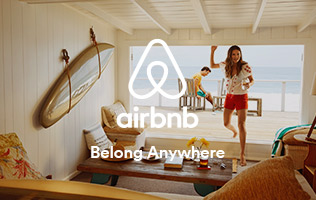 The San Francisco-based company began running a national advertising campaign this year suggesting it will help customers feel more at home while traveling. Their 2016 slogan: "Don't Go There. Live There." has been backed by their newly released version of themain Airbnb app in April that added neighborhood travel guides as part of the rental opportunities.
Airbnb
is expected to unveil the new trips app at its annual conference in November. It is rumored that the company plans to roll out a program allowing current
Airbnb
hosts to make money by recommending restaurants and giving tours which will add to what they hope the app can provide to users.
The listing for
Airbnb
Trips on Google's app store said the software is "unreleased". Accompanying screen shots show example agenda items called "Mission: Happy Hour," referring to a meetup in San Francisco's Mission neighborhood, and a full-day "Table to Farm" event. We look forward to seeing what comes of their November launch and plan to update our readers then! This new software will surely help any
Airbnb
user
devour the details
of their next trip. Trust us, we can't wait to use it ourselves!