Instead of your usual wedding rings, some people opt into getting something you can't take off that easily: tattoos. A great way to display your love for one another, in the eyes of some, this is a true sign of commitment. The idea here is to memorialize wedding day vows to your partner with some ink on a ring finger in place of or in addition to an actual engagement ring and wedding band. If the ring finger isn't a spot you want to cover, consider a matching tattoo on a different body part. Check out these couples' symbols of holy matrimony for some ideas!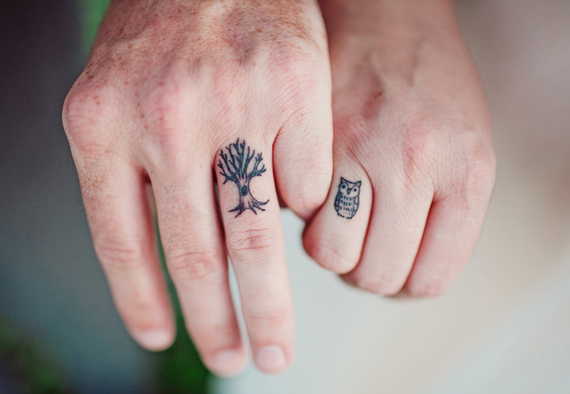 http://www.buzzfeed.com/lilis2/28-awesome-wedding-band-tattoos?sub=2499216_1553998#4akn5np
http://www.pinterest.com/baggatta/
http://keltiecolleen.buzznet.com/photos/45ofthebestweddingri/?id=68486164
https://scontent-b.xx.fbcdn.net/hphotos-frc1/t1.0-9/10296621_1437738733140984_1117213310723894419_n.jpg
http://www.stylecraze.com/articles/ring-tattoo-designs/
http://bowerbirdphotography.com/blog/san-francisco-verdi-club-wedding-emily-marcus
Do what suits you and
devour the details
of your wedding day tattoos!